Calix[4] arene
Orion Chem is manufacturer of Calix[4] arene in india, with state of art manufacturing facilites in MIDC Tarapur, Maharashtra, India , our utmost attention is given to generate quality products meeting stringent and demanding specifications of user industries.
Calix[4] arene is synthesized by aluminium trichloride catalyzed de-butylation of p-tert-butyl calix[4] arene. Various functional groups and chain lengths are appended on the lower rim of calix[4] arene to get desired cavity size on the molecules. Calix[4] arene, therefore, serves as a starting material for derivatives used in complexation and separation of lanthanides and actinide from nuclear waste.


Calix [4] arene acts as a surfactant in coupling reactions in pharmaceutical synthesis. As well polyhydroxamine derivatives of Calix[4] arene display anti-tumor activity.
Products Details
| Product | Calix[4] arene |
| --- | --- |
| Application | It acts as a surfactant in coupling reactions in pharmaceutical synthesis. As well polyhydroxamine derivatives of Calix[4] arene display anti-tumor activity. |
| CAS Number | 74568-07-3 |
| Molecular Formula | C28H24O2 |
Calix [4] arene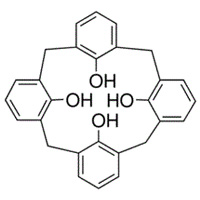 Calix [4] arene Specifications
| Test Parameters | Specifications |
| --- | --- |
| Molecular Weight | 424.49 |
| Appearance | White to light beige colour crystalline powder. |
| Melting Point in degree Centigrade | 312-314 0C |
| IR Spectrum | Confirms to the structure |