2,4 Dinitroanisole (DNAN)
Orion Chem is manufacturer of 2,4 Dinitroanisole (DNAN) in india , with state of art manufacturing facilites in MIDC Tarapur, Maharashtra, India , our utmost attention is given to generate quality products meeting stringent and demanding specifications of user industries.
2,4 Dinitroanisole(DNAN) is known by its abbreviated form (DNAN).
It is used ininsensitive munition replacing TNT. It can be melted and cast more safely.
It has also been used as a dye ingredient and insecticide.
It is used in explosive mixtures such as IMX-101, IMX-104, PAX-48, PAX-21 and PAX-41 in the spider grenade.
Products Details
| Product | 2,4 Dinitroanisole (DNAN) |
| --- | --- |
| CAS Number | 119-27-7 |
| Molecular Formula | C7H6N2O5 |
2,4 Dinitroanisole (DNAN)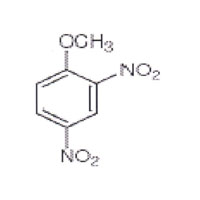 2,4 Dinitroanisole (DNAN) Specification
| Test Parameters | Specifications |
| --- | --- |
| Appearance | Fine Powder. |
| Color | Yellowish |
| Purity by GLC | 98% by HPLC |
| Melting Point in degree Centigrade | 96 0C +- 1 by DSC |
| Infra Red Spectrum | To match with the Reference Spectrum |
| Solubility | Completely soluble in Methanol, Ethyl Acetate & Acetone |
| Moisture by KF | Not more than 0.5% |